Prince Harry and Meghan, are not the only Sussex professionals to lose their 'HRH' styling this year, for you may have noticed that our website has changed from www.HRHLaw.co.uk to www.HughesLaw.co.uk.
Our recent relocation to the old bank building on Heathfield High Street presented us with the ideal opportunity to refresh the firm's corporate identity and branding as we head into a new decade with the new name of Hughes Solicitors.
Keeping the colours, the same, graphic designer Steve Price, came up with a clean and professional logo incorporating curves which echo the beautiful rolling hills of Sussex.
This was then developed into our suite of stationery, a seen below: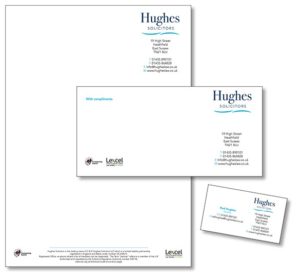 We are especially delighted with the improved design and imagery of our website which was designed by Jan Beesley of Cipherweb.  Jan is also an amateur photographer – and we found her via Uckfield Camera Club.
"It was really important to us to have some beautiful photography on the website, and for social media, to reflect the many attractive villages and landscape in the area around Heathfield," said Dee Benians who has project managed the rebrand and worked with Sue Bramall of Berners Marketing on the website content strategy.
"Jan did a lovely job of capturing the details and beauty of our local communities in the photography, and we are thrilled with the new website which looks great and is much easier for our clients to navigate.'
Despite changes in our appearance, our commitment to excellent client service has not changed, and we will continue to provide the highest levels of service and professionalism.
If you would like legal advice on any property, wills, probate or estate administration matters, please our office on 01435 890 101 or email info@hugheslaw.co.uk.
This article is for general information purposes only and does not constitute legal or professional advice. Please note that the law may have changed since the date this article was published.