If you have driven past the old NatWest building in Heathfield recently, then you may have noticed the bright new signs to say that Hughes Solicitors are open for business.
The renovations of the old bank on Heathfield High Street were completed just before Christmas, with new branding in the name of Hughes Solicitors.  The team from H & R Hughes (as they were known before) was able to move into their new offices in the period between Christmas and the New Year.
For your records, our new postal address is:
19 High Street, Heathfield, East Sussex, TN21 8PL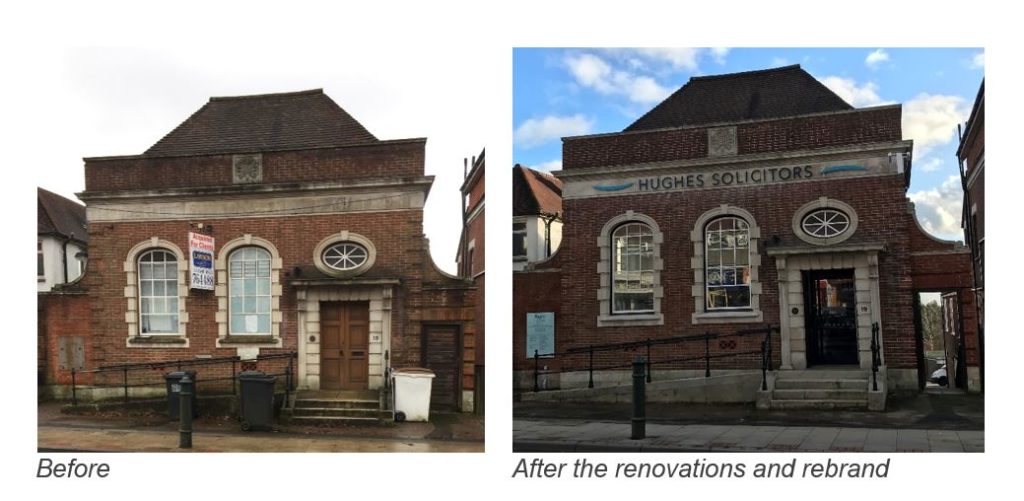 What a difference has been made! Property partner Rod Hughes oversaw the renovations to this important building and kept the project on schedule.
The space inside the bank has been greatly improved while preserving many of the original features of the building, such as the large arched windows and double front doors, as well as the door to the strong room – which is now a feature of the staff refreshment area.
The bullion lift which, in the 1930s, had been used to transport gold and large quantities of cash to the lower ground floor vault was sadly empty and had to be removed. It took two weeks of solid drilling for the builders to cut through the strong room wall to form a new door.
Rod Hughes payed credit to the construction team from DF Tourle of Framfield, which was led by Paul Limpus and Barry the site manager, who brought the project in 'on time and pretty well on budget'.
The team are very excited about the improved facilities which we will be able to offer visiting clients, especially in regard to the new meeting rooms, accessible toilet and and ramp access for clients with a pram or wheelchair.
We have already received positive feedback from clients, saying:
"Congratulations on the way in which you have converted the old NatWest building into such a splendid set of offices"

"It is gratifying to see how sympathetically you have managed to preserve its atmosphere but at the same time designed such a good working space."
This article is for general information purposes only and does not constitute legal or professional advice. Please note that the law may have changed since the date this article was published.