Our grandparents stored their photographs on slides and their music was on vinyl records and, while the latter have made something of a comeback recently, it is the earliest editions which are valuable. For example, a rare copy of The Beatles: 'Til There Was You' (10" acetate) sold for £77,500 in 2016, after it was found in the attic of a Liverpudlian who had obtained the record while playing keyboards for Gerry and The Pacemakers.
Sadly, the same cannot be said for an individual download of a song or a film, or even a collection which may have cost thousands of pounds to accrue and which you might wish to pass on to a friend or relative.
With so many aspects of our life being online or digital, they take up much less space than a record collection and it is easy to forget them when making a will and deciding which assets to give to your beneficiaries. To complicate the matter further, some online accounts are not transferrable, as internet service providers have been reluctant to release photographs and information from online accounts to family members without a court order.
Many of us now manage our financial affairs online too, especially since Covid made it more difficult to get to a bank of building society.  This creates the challenge of how to handle passwords which may be needed by executors, while at the same time as keeping them safe.
It was only in 2018 that most high street banks and building societies joined the Death Notification Service.  Meanwhile there is no common approach among internet service providers about how the accounts of deceased customers will be dealt with. Some have now published a process, but many have more opaque terms and conditions.
Unfortunately, it is necessary to look at each account separately and consider what would be the best course of action. For example, if you are concerned about a collection of photographs then it would make sense to ensure that you have a backup copy (or even printed versions) to hand on, rather than relying only on cloud storage.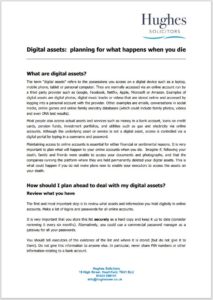 As with the rest of your assets, when you are thinking of your inheritance and planning to make or update a will, it is worth reviewing your valuables and thinking about who you want to receive them and whether any steps are necessary to ensure your wishes can be carried out.
If you are concerned about access to your accounts or online investments and assets after your death, we can advise you on appropriate steps while making your will.
Click here to view our full guide on planning what happens to your digital assets when you die.
For further information on making a will, please contact our private client team in Heathfield, East Sussex on 01435 890 101.
This article is for general information purposes only and does not constitute legal or professional advice. Please note that the law may have changed since the date this article was published.