If you are planning on making or updating a will, there is certain information which you will need to have ready for your solicitor.
This will ensure that your wishes for funeral arrangements, property and finances after death are fully set out. It will also set your mind at ease that adequate provision has been made for your loved ones.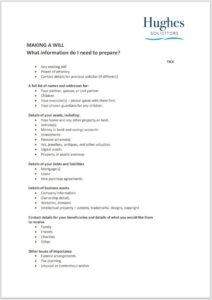 Our private client lawyers in Heathfield have created this useful 'Making a will checklist' with all the key pieces of information you will need to gather before instructing your solicitor to draw up a will.
Click here to download our 'Making a will checklist'.
For further information on making a will, please contact the private client team in Heathfield, East Sussex on 01435 890 101 or email info@hugheslaw.co.uk.
This article is for general information purposes only and does not constitute legal or professional advice. Please note that the law may have changed since the date this article was published.